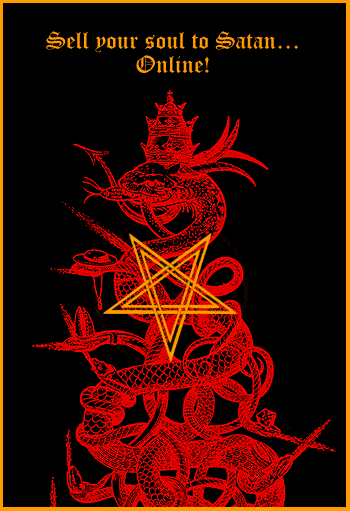 C'mon, do it! Everybody's doing it.
Welcome to the Sell Your Soul To Satan, Online page! One of the most delightful facets of the World Wide Web is it's commercial aspect, which allows consumers and vendors to easily link up in cyberspace to form transactions. Previously, selling one's soul to the Devil has been a ridiculously inconvenient process, fraught with all varieties of difficulty. Now, with online vending, we are able to swiftly provide premium services to that lucky mortal seeking diabolic servitude. Today, we are able to provide more for less, due to the ingenious designs of our infernal president and CEO, Satan himself.

In past decades, merely trying to sell one's soul was a prickly deal. Firstly, the complex technical knowledge of sorcery sufficient to elicit the attention of Satan has been so forbidding, that anyone capable of summoning the Devil had very little need to actually do so, being able to obtain virtually everything else via magic. Secondly, pacts formed with, (unbeknownst to the mortal in question), unlicensed demonic tempters, often resulted in highly unsatisfactory pacts by both mortal and infernal standards. Thirdly, even demonic tempters licensed for seduction and glamour by Satan took a heavy cut out of the profit of the operation. So little was left over for Satan himself, that the miracles being offered became progressively flimsier, until finally it took three entire souls and a goat sacrifice to afford a night of sex with Kathy Ireland. Fourthly, in this age of numerous contagious blood diseases, it was considered a potential violation of contract if for some reason an individual became ill by a chance contact with an infernal pact. Red ink was used very briefly, but it was deemed wise to let go of some traditions in order to capitalize on a rapidly expanding and forward-looking marketplace. Lastly, the entire concept of union strikes originated in Hell...

These problems are no longer, because with online vending, Satan has cut out the middle entity and deals with you directly at the click of a mouse.
Damn good!
A great deal of misconception needs to be dealt with, as financial and spiritual dealings with Satan have gotten an undeserved bad rap. We suspect Red infiltration at the highest levels. Firstly; temporarily laid off though he is, Satan is an Archangel and as such is totally incapable of lying. Secondly; Satan is largely responsible for the expulsion from Eden, which though fairly inconvenient for our distant ancestors, has since paved the way for our entire textile and fashion industries, among others. Thirdly; Satan did Fall because of the sin of Pride, and as such he is proud to serve you with unblemished professionalism and zeal. Fourthly; Satan understands the meaning of commitment, as he has continually provided his services and his institutions, with incomparable reliability for an ongoing two billion years. Few others have such impressive credentials.
Damned if you do.
Satan, being something of an expert in all of the reasonably well known vices, and well versed in the generalities of the more obscure ones, can provide your strangest fantasies at your merest whim. Nevertheless, tradition being what it is, one must be legally bound to Satan before the downpour of goodies begins. Over the years, a fairly straightforward (read: no fine print!) introductory pact has been developed to get one going down the road to happiness, fulfillment and eternal damnation, right away.

Let's go to that page, right now.
---
This website is the original Online Satanic Pact. Accept no substitutes.